The first revision of gross domestic product (GDP) for the third quarter shows slower growth than initially thought.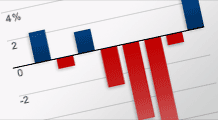 The recovery from the Great Recession has likely started. But many economists are worried about falling into another downturn. Here's what has them concerned.
NEW YORK (CNNMoney.com) -- Economic growth was weaker in the third quarter than originally reported, according to government data released Tuesday.
The gross domestic product, the broadest measure of the nation's economic activity, rose at an annual rate of 2.8% in the three months ending in September, according to the Commerce Department's first revision of the reading. The initial reading of the report a month ago came in with a 3.5% growth rate.
The decline in the growth rate was expected, in large part because of a recent report showing a growing gap between the nation's imports and exports. Importing goods from other countries is a drag on domestic U.S. growth.
Less spending, less investment, fewer cars: The GDP report had other downward revisions too. Specifically, it contained lower estimates for spending by both consumers and by businesses, and also less investment in both homes and nonresidential buildings.
In addition, there was less of a boost than initially thought from the sale and production of autos and the rebuilding of inventories. During the depths of the recession, businesses slashed inventories, and rebuilding them would contribute to GDP.
"It's unusual to have almost all the revisions go in the same direction," said economist Bob Brusca of FAO Economics. "Growth of 2.8% certainly sounds different to the ear than 3.5% growth. But you've still got growth, you're still turning the corner."
The recession may be over -- but not officially: The third quarter snapped a streak of four straight quarters during which the nation suffered the most severe economic decline since the Great Depression. And there is widespread consensus among economists that the recession likely ended at some point this past summer.
The report does not mark the official end of the recession, though. That determination will be made by the National Bureau of Economic Research, likely sometime in 2010 once all the various economic readings have had their final revisions.
There has been growing concern in recent weeks about whether the economy will continue to post solid growth, or whether the country is at risk of again starting to decline -- a situation known as a "double dip."
Even many of those who think that a double dip will be avoided question how strong the recovery will be. Federal Reserve Chairman Ben Bernanke said in a speech last week that the economy is facing headwinds that will stop growth "from being as robust as we would hope."
Higher GDP doesn't mean more jobs: Top economists recently surveyed by the National Association of Business Economics forecast GDP growth of 3% in the fourth quarter and a 3.2% rise in economic activity over the course of 2010.
But they have pushed back their estimates for when economy will start adding jobs again until the second quarter of next year. The nation's unemployment rate hit 10.2% in October. (See: "Are things really getting better?")